1. Introduction
EUROCOC s. r. o., having its registered office at Žižkova 7803/22B, 811 02 Bratislava- Staré Mesto, Corporate ID: 36 804 339, Tax ID: 2022416968, VAT ID: SK2022416968, registered in the Business Register of the Bratislava III District Court, section Sro, entry No.: 46925/B, (hereinafter as "EUROCOC" or "we" or "us") undertakes to protect the personal data of its customers and contractors in accordance with the valid data protection legislation (Regulation (EU) 2016/679 of the European Parliament and of the Council of 27 April 2016 on the protection of natural persons with regard to the processing of personal data and on the free movement of such data, and repealing Directive 95/46/EC and the Act No. 18/2018 Coll. on Personal Data Protection). This Privacy Statement describes how EUROCOC collects, processes and protects the personal data of its customers during their visit to our website – domain address www.eurococ.eu (hereinafter as "our website") and/or when using our services.
In our Privacy Statement you will find out:
which information we collect,
why we collect it,
who we share it with,
how we protect your rights,
what rights you have,

how you can modify, export or delete your data.
2. Which information do we collect?
eurococ.eu protects your privacy and keeps the information you submit secure. In order to be able to provide our services, we need to know some basic information about you. When placing an order, it is necessary to provide us with the following information:
full name and address (shipping address as well as billing address, if they are not the same)
your e-mail address and telephone number (these are used to identify you in the system and to communicate with you, inform you about the status of your order,…)
if you are buying as a company, in addition: business name, registration number, and VAT number (for invoicing, accounting, and administrative purposes)
details about the vehicle you are ordering a certificate for (VIN, year of first registration and more, depending on the make)
in several cases, we might need you to enclose documents that are requested by our suppliers – copy of your ID, copy of the certificate of registration, or other document related to your vehicle.
If you decide to order our services, we will also require your billing information to issue an invoice. If you visit our website, we collect data about your web activity using cookies and analytical tools which track activities on our website. Among the information collected in this manner is your IP address, the type of device and the browser settings.
We also receive and store the information you give us through email, chat, or telephone communications with our customer service department. If you contact us for support, we will keep an internal record of what support was given.
If you contact us as a job seeker or a potential contractor, we need you to provide the following information: name and surname, name of company, contact information, billing information, e-mail address, and phone number.  Besides this, we also require that you submit your CV with details of your education, professional experience and other information which may be required to evaluate your abilities and suitability for the given position.
3. Why does EUROCOC collect data?
Your personal data is collected and processed for the following purposes:
registration and granting of access to your account and our services,
provision of the services you requested,
optimization and expansion of the services we provide,
payment for services,
protection of our legitimate interests and the interests of our other customers,
evaluation of job applications,
analysis of visits to our website,
direct marketing.
When you visit our websites or our web servers, always, for security reasons, store the connection data of the computer connecting to our site, the list of websites you visit within our site, the date and duration of your visit, the identification data of the type of your browser and the operating system used, as well as the website through which you connect to our site. Additional personal information, such as name, address, telephone number or e-mail address, is not collected unless you provide such information on a voluntary basis, e.g. when you directly fill in a contact form as part of your registration or as part of an overview, the performance of the contract or an information request.
Purchase of goods and services
When making a purchase, you are requested to provide us only with the data necessary to handle your purchase order successfully. Therefore, the mandatory data are only those without which we cannot handle your purchase order and send you the purchased goods, such data including your name and surname (company name), e-mail address, delivery address, phone number and the purchased item itself.
Customer care
If you turn to us with any query/problem, we need to process your data to answer/solve it. In some cases, personal data may also be transferred to third parties (e.g. a goods carrier).
User account
Thanks to the personal data you provide to us in your user profile, you will have access to a range of useful functionalities. The mandatory data include name and surname, address, e-mail address and phone number. You may at any time change the data you have entered.
E-mail marketing
We will send you e-mail marketing notifications based on your consent or our legitimate interest. You can easily reject the receipt of notifications by marking your choice in the e-mail footer.
Legal basis for the processing of personal data of data subjects
Our company proceeds according to Act No. 18/2018 Coll. on Personal Data Protection and on Amendments and Supplements to Certain Acts (the "Personal Data Protection Act") and Regulation (EU) 2016/679 of the European Parliament and of the Council (the "GDPR").
The legal basis for personal data processing is:
the data subject's consent to the processing of personal data
the performance of the contract to which the data subject is a party
the legitimate interest of the controller
the fulfilment of statutory obligations – in keeping data concerning you and your purchase order in our books of account or in disclosing data to the government and other authorities supervising our activities or resolving disputes or enforcing decisions.
 Data subject's consent
Consent to the processing of their personal data shall be given by the data subject freely, without coercion and enforcement, as well as without being made subject to a threat of refusal of the contractual relationship, the services provided or the controller's obligations.
The data subject gives their consent separately for each purpose of personal data processing.
The data subject may at any time withdraw their consent.
The company considers the provided personal data confidential and puts emphasis on respect for privacy.
The personal data you provide is processed and used in a manner adequate to the purpose for which it was collected. EUROCOC does not aggregate personal data collected for different purposes. Your personal data will be stored no longer than is necessary for the purpose for which the personal data was collected. We will only store personal data which has a legitimate purpose (e.g. the valid legal regulations may require that we store certain data, and some data may be required to invoice unpaid amounts).
We will not collect an excessive amount of personal data, nor will we collect data which is not relevant for the purpose for which it is collected.
4. How do we use the data we have collected?
We use your information to contact you regarding functionality changes to our products and webpage, new services, and special offers that we think you'll find valuable. If you would rather not receive this information, please see the "Profile Settings" section in your account.
eurococ.eu uses information and copies of the documents gathered about our client primary for carrying out the orders, but also for the statistics (for example, your IP address or device operating system) and to help diagnose problems with the server. This is not linked to any personally identifiable information, except as necessary to prevent fraud or abuse on our system. These results are not shared with any third parties and are used solely for optimising our webpage and processes.
4.1 Period of retention of personal data
The period of retention of personal data is determined according to the specific purpose of the processing of personal data and the requirements of specific regulations.
The individual retention periods are prescribed by the company's internal document "Records Retention Schedule", prepared in accordance with the Archives and Registries Act.The company safely destroys all personal data whose purpose of processing and retention periods have ended.
5. Encryption
When placing your order on our webpage, you will be using secure servers and encryption. Your purchases, credit card information, and personal data are encrypted and secured. During the completion of your order, you will be linked from our web pages to customised screens on our secure server. eurococ.eu cooperates with Verisign, Inc., which provides the encryption of information using an SSL certificate. Secure sockets layer (SSL) technology protects your online transactions, as shown in the picture below. Your information is encrypted during its trip across the Internet to prohibit viewing by a third party, which can be seen in the address bar in your browser (symbol of the green lock and https:// at the beginning of the address).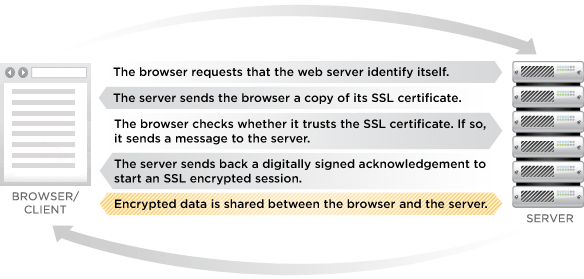 Web servers and Web browsers rely on the Secure Sockets Layer (SSL) protocol to create a uniquely encrypted channel for private communications over the public Internet. Each SSL Certificate consists of a public key and a private key. The public key is used to encrypt information and the private key is used to decipher it.
6. Secure payment
6.1 eurococ.eu provides its customers with the ability to pay for services carried out in various ways. Payment can be made by cash deposit or transfer to our bank account as well as by credit/debit card, Klarna or PayPal. We provide you with the safety and comfort you demand when ordering on the Internet.
6.2 The payment by credit /debit card takes place directly on the webpage of the bank, which ensures maximum data protection. The data filled in regarding your credit or debit card are handled exclusively by the bank and we have no contact with them whatsoever. Your credit or debit card payment page of our partner banks will ask you to enter your card number, expiration date, and 3-digit CVV/CVC code that is printed on the back of your card. The communication between your browser and the payment page is encrypted as well.
6.3 In order to pay using the international electronic payment service PayPal, you need to fill in the form that is created uniquely for your order. A payment that is sent via PayPal secured website is carried out and posted to our account immediately after it is submitted.
6.4
In order to offer you Klarna's payment methods, we might in the checkout pass your personal data in the form of contact and order details to Klarna, in order for Klarna to assess whether you qualify for their payment methods and to tailor those payment methods for you. Your personal data transferred is processed in line with
Klarna's own privacy notice
.
7. Use of cookies and third-party software tools and service providers
We do not disclose your personal information nor do we provide it to any other entity, except for organisations with which co-operation is essential to handle your order. These are mainly the banks (in some cases we need to provide your name) or courier services (delivery address). These companies are prohibited from retaining, sharing, storing, or using your personally identifiable information for any secondary purposes. Other than as described in this Policy, we will not give any information about you to others without your express permission. eurococ.eu has security measures in place to protect against the loss, misuse, or alteration of the information under our control.
8.1 Direct marketing
We can send you relevant offers and communications about our products and services via e-mail, however, only if you have previously agreed to the transmission of marketing communications or if you have used our services in the past and became our customer. In each e-mail, there will be a link you can click to unsubscribe from receiving marketing communications. You can unsubscribe by clicking the "unsubscribe" link included at the end of our marketing e-mails.
Terms of consent for personalized messages:
You have the right to withdraw your consent at any time,
You will receive an email from us at most once a month,
your email will be stored in the database for up to 5 years,
we will not use your email for any other purpose and it will not be given to third parties.
8.2 E-mail advertising with registration for the newsletter
If you register for our newsletter, we will use the data required for this purpose or separately provided by you in order to send you our e-mail newsletter on a regular basis on the basis of your consent.You can unsubscribe from the newsletter at any time either by sending a message to the contact option described below or via a link provided for this purpose in the newsletter. After unsubscribing, we will delete your email address unless you have expressly consented to further use of your data or we reserve the right to use your data for other purposes that are permitted by law and about which we inform you in this statement.
9. Compliance with Laws and Law Enforcement
eurococ.eu cooperates with government and law enforcement officials and private parties to enforce and comply with the law. We will disclose any information about you to government or law enforcement officials or private parties as we, in our sole discretion, believe necessary or appropriate to respond to claims and the legal process, to protect our property and rights or the property and rights of a third party, to protect the safety of the public or any person, or to prevent or stop activity we consider to be illegal or unethical.
10. Privacy control – your data, your rights
Please be aware that pursuant to the Personal Data Protection Act, you have the following rights:
to request from the controller access to personal data concerning the data subject,
to request the rectification or erasure of personal data or restriction of the processing of personal data,
to object to the processing of personal data,
to request the portability of personal data,
to lodge a complaint or a petition to commence proceedings with a supervisory authority,
to withdraw your consent to personal data processing at any time,
to have access to your own personal data,
to request a list of your personal data that are subject to processing,
to request the destruction of your personal data which have been processed in violation of the law,
to request the restriction of the processing of personal data,
to prevent the processing of your personal data that you believe are or will be processed for marketing purposes without your consent,
to have the right to lodge a petition to commence proceedings under Section 100 if the data subject suspects that their personal data are being processed unlawfully.
If you wish to apply any of the rights specified above, or should you have any questions or comments pertaining to our use and processing of personal data, please send an e-mail to gdpr@eurococ.eu.
You can change your account information or cancel receiving communications from us at any time. Please use one of the following options to contact us:
Send us an e-mail to info@eurococ.eu
Send us your request via chat at www.eurococ.eu – on the right side at the bottom
Call us :  +421 2 32 603 163
Call If you have any questions about our Policy or our practices, feel free to contact us as well.
11. Sharing of your information
We can share your personal data with third parties, such as:
advertising service providers,

web service providers.
You can find the list of all our current partners with whom we can share your personal data under Personal data. Except as provided in the previous sentence, your personal data will not be shared without your consent with any third party, except as follows:
when EUROCOC is required to provide personal data by law, by a public authority, or

if the sharing of personal data is explicitly permitted under specific legislation.
We are committed to keeping your personal data safe. To that end, we have introduced the appropriate physical, technical and organizational measures and plans to protect and secure your data. Their objective is to prevent the unauthorized or unlawful processing of your personal data or the random, unauthorized or unlawful access, use, transfer, processing, copying, change, loss or damage of your data.
Despite our efforts to ensure compliance with the rules of the respective legal regulations, it is not possible to ensure the safety of your personal data when transferred or shared in an unsecured environment. We will protect your data using the following methods:
using encryption (where applicable),

using passwords (where applicable), and

using access restrictions (i.e. access to your personal data will be only permitted to our employees or contractors who require such access).
EUROCOC grants access to all potentially personal or sensitive data only to those employees and contractors, which need such information to process them on behalf of EUROCOC, to conduct business with a client or to provide services to EUROCOC. EUROCOC grants access to all potentially personal or sensitive data only to those employees and contractors, which are contractually bound to maintain confidentiality.
12. The right of access and the right to lodge a complaint
You have the right to be provided detailed information about your personal data we have been processing. You also have the right to request the rectification or deletion of inaccurate personal data or to restrict the processing of data pertaining to you. To request an update or the deletion of your personal data, please send an e-mail to gdpr@eurococ.eu. If, however, your request proves to be manifestly unfounded, excessive or repetitive, we may:
charge a reasonable fee taking into consideration the administrative costs of performing the requested duties, or
refuse to comply with your request.
If you feel that your data has been processed unlawfully, please send an e-mail to gdpr@eurococ.eu and we commit to resolve the issue immediately. You also have the right to lodge a complaint with the Office for Personal Data Protection of the Slovak Republic.
13. Validity of the Privacy Statement
We reserve the right to modify this Privacy Policy at any time – any change will be posted here and in any other places we deem appropriate, so that you are aware of what information we collect, use, and under what circumstances, if any, we disclose it.
This Privacy Statement shall be valid in perpetuity. The most recent update was made and published at www.eurococ.eu on June 27, 2023. We reserve the right to change or amend the Privacy Statement from time to time, in particular if it needs to be adapted to the changes of our website or newly introduced technologies.